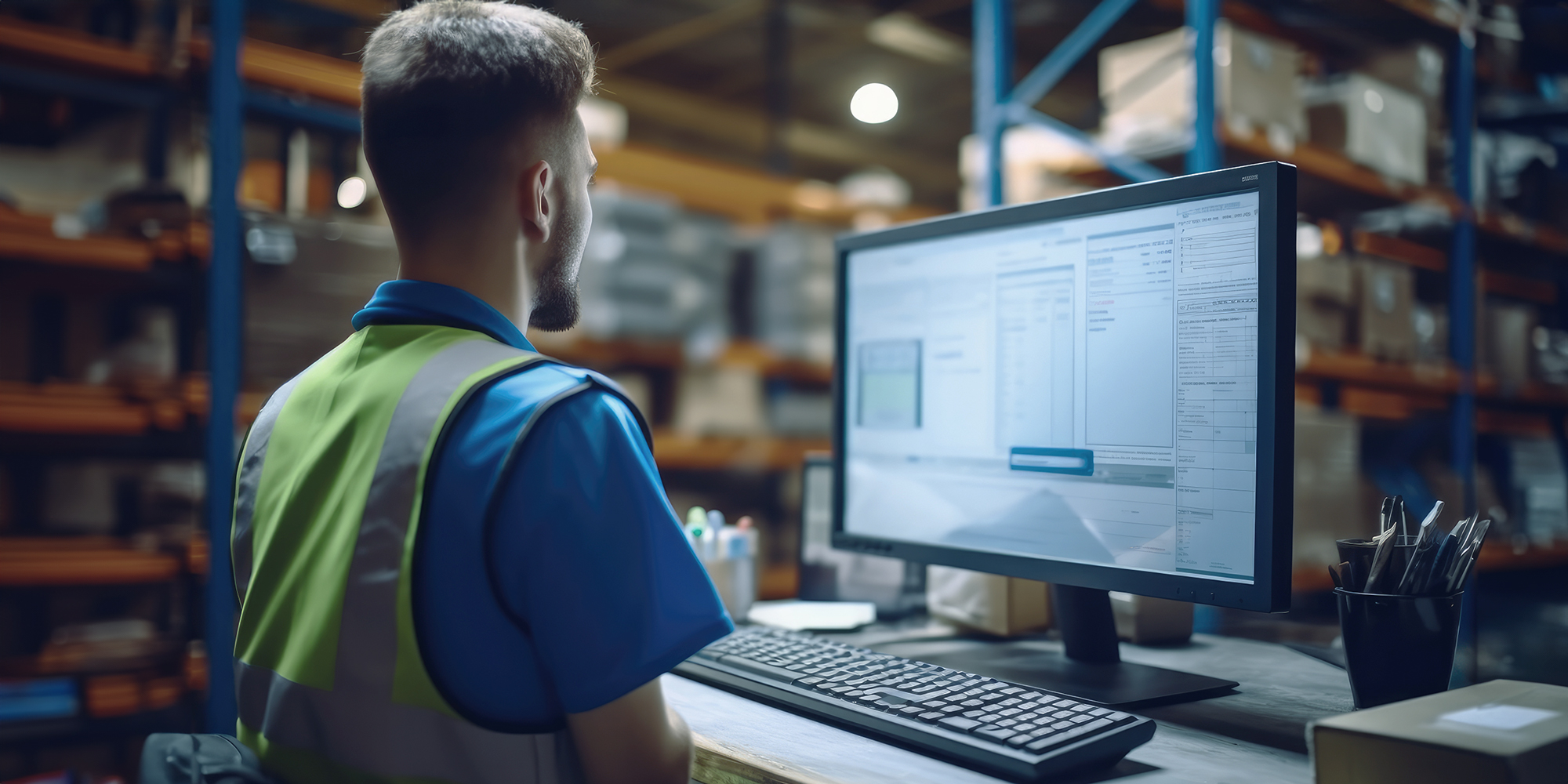 How Distributors Drive More Sales With Better Business Communication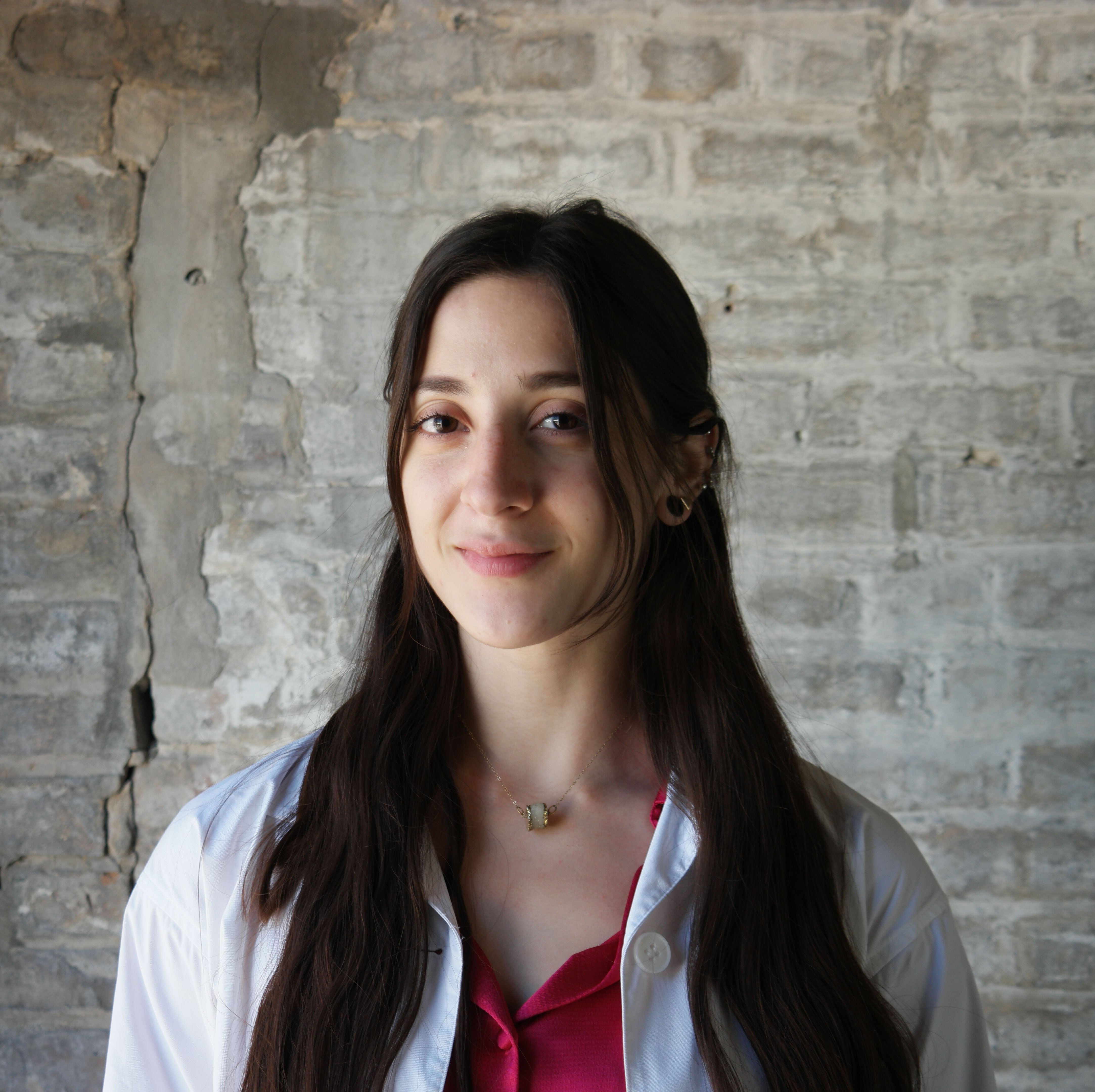 Written by Erika M. Torres •
Oct 12, 2023 •
Scaling revenue while providing every one of your customers with excellent service can be a challenge, especially as your organization grows. That's why industry leaders in every corner of wholesale distribution are implementing Prokeep's Conversational CRM to manage their customer experience, better serve their communities, and drive more revenue.
From centralizing communication to managing customer data, Prokeep empowers your team to work quickly and efficiently to do what they do best – serve contractors.
All Business Communications in One Dashboard
Prokeep text enables your branch's main phone line and combines email, text, and fax into one easily accessible workspace. Your team can access any communication from the counter computer or through Prokeep's mobile app, making doing business as easy as pressing a button.
By combining centralized communication, payments, and customer data into one easy-to-use workspace, Prokeep provides solutions to every distribution need, ensuring you work fast while giving your customers the desired experience.
Better Service and Profitability with a Conversational CRM
Distributors are using Prokeep to grow their businesses by streamlining workflows, saving time, and eliminating errors. By centralizing all customer conversation records with innovative automation powered by 3rd party software like ERPs and Logistics apps, Prokeep solves common distribution challenges and provides value in countless ways that result in accelerated revenue.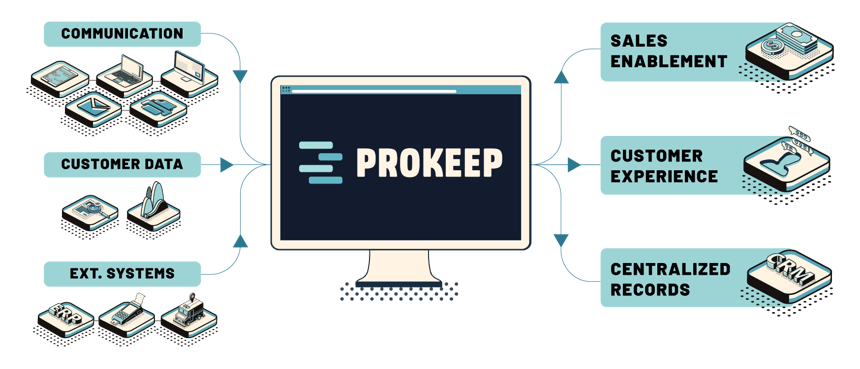 Common Challenges in Distribution + Prokeep Solutions
Distributors are missing calls and losing orders
When you rely on one channel for communication, phone calls, you often resort to hold-lines and dial pads to keep customers waiting for service. This creates a bad customer experience, and if a customer needs inventory fast, they'll call up your competitor down the street to see if they can handle their order faster. Otherwise, they leave a voicemail, and you have to spend even more time listening to the voicemail, calling back, and playing phone tag. This friction results in lost revenue and wasted time.
Free up phone lines by letting customers text, email, and web chat with your counter reps — all in one easy-to-use dashboard built to free up phone lines.
Distributors are flooded with after-hour calls and text messages from customers
When the only way to reach you is through your store phone, your employees may in turn give out their personal cell phone numbers -- and this often leads to after-hours calls. Being able to text customers allows employees to attend to their needs faster, however, many distributors find themselves unable to manage the influx of messages outside of business hours.
Create a better work-life balance for your team while still ensuring they receive crucial messages by implementing a designated business channel. This way they can turn their phone off when they need to, and every communication will be readily available the moment they get into the office.
Distributors are wasting time on the phone when customers try to explain what they need
When customers call in to describe the part they need (a 'whatchamacallit'), read a long SKU to check for warranty info, or try and describe what they're looking at in hopes of technical assistance, your counter reps have to spend time decoding and deciphering what your customer needs. And if they get it wrong, in the example of a part order by SKU, it can be a costly mistake and hurt your customer's business.
With Prokeep, your customers can simply text a picture of what they're looking at directly to your branch phone number so your counter rep can quickly and accurately get them what they need. A picture's worth a thousand words; it takes over 8 minutes to say one thousand words — with just 7 pictures, you're getting an hour back to make more sales.
Distributors are spending too much time sending order updates to customers
Calling customers to try to alert them of their order status can be incredibly difficult and take a lot of time when you have a long list. Half of the time you are playing phone-tag and having to leave multiple voicemails. This not only takes time away from other tasks but it creates a lot of potential for error.
Through Prokeep, you can alert customers of order updates or deliveries with just the press of a button. Not only does this cut down time but it also leaves clear documentation of completed orders that can be accessed at any time. Say goodbye to wasting hours on the phone leaving voicemails, only for customers to claim they were never notified. With Prokeep you can easily alert customers and refer back to this interaction whenever you need.
Distributors are losing customer relationships with staff turnover
When customers text your counter rep's personal phone, you lose control of that relationship. Whether they leave to go on vacation or to work at your competition for an extra couple of dollars, they end up leaving with that customer and the conversation history in their pocket. This is bad for business and can result in the loss of millions of dollars in ARR.
With Prokeep, your reps can still manage relationships over text messages, but the conversation history is recorded in one place for security and efficiency. That way, if a rep leaves, they don't take your customers with them.
Distributors are losing customers to competitors that make it easy to buy
If your competitors are easier to do business with, your customers will buy from them to save more time. Be the supplier that's easy to do business with by giving them easier ways to buy.
Prokeep centralizes communication while opening new channels through which customers can reach you so that they get fast responses and excellent service wherever they are. Plus, with automated order updates, they're always in the know about the status of their purchase, so they don't need to call for information. This is a double advantage. Great service and less phone traffic for your team to manage.
Distributors are making costly errors with poor data management
Whether it's when a customer that you haven't seen in weeks comes into your branch asking for "the same thing as last time" or you can't remember where you wrote down a phone number, poor data management, or not having information organized and accessible is incredibly costly to your organization. By creating extra work for yourself in having to search through records, you also risk errors and inconsistencies.
Safely and seamlessly store all your customer data and conversation history in one interconnected dashboard home to every business communication. With Prokeep's centralized communication solution, your team has everything they need to serve their customers all on the counter computer or mobile app!
Distributors are Missing Appointments and Opportunities to do Business - Pillar Blog Blurb
Your customers are busy, and many seem to forget about appointments, leaving your team with a lost opportunity to make a sale. By sending your customers a simple appointment reminder straight to their phone, you can cut down on no-shows and go after every chance you get to score a profit.
With Prokeep, you can easily send an appointment reminder, a quote, or a follow-up to ensure your business is top of mind. Not only will you save yourself time by cutting down on no-shows, but you'll create a better experience for your customers.
Distributors are struggling to give all customers the VIP experience
As your customer base grows and you service more populations from different backgrounds, it can be difficult to ensure that every individual gets the service they need. Maybe you have a large client base of Spanish speakers, or your customers need a specific skillset that only certain team members have; it can be tricky to connect them to the right person in a timely manner.
That's why distributors are using Prokeep to set up VIP inboxes and ensure incoming messages go straight to whom they need to. With a VIP inbox, your bilingual customers can immediately be connected with a team member who can help without having to wait on the phone.
Distributors are Missing Opportunities to Provide an Optimal Customer Experience
Without personalizing the shopping experience for your customers, not only do you miss out on opportunities to make more sales, but you also create an experience that feels impersonal and more tedious to your customer base.
Being able to keep clear records of order history and send out personalized offers with the press of a button helps you keep your business top of mind while providing industry-leading customer service. Through Prokeep's easy communication capabilities, you can do all this while keeping business seamless.
Distributors are missing customer emails and creating delays in service
A messy shared inbox means missed emails, confusing messages, and inefficient processes. Whether it's forgetting to hit "reply all" or just mistakenly assuming someone else will attend to it, a poorly managed inbox is going to be a negative experience for both your team and your customers.
With Prokeep's shared email capability, you can easily claim and answer emails from your counter computer. Just like answering a text, your team can view and claim incoming messages and will have access to all conversation history -- so attending to every email is efficient and seamless.
---
How can Prokeep help your distribution business?
Prokeep was purpose-built exclusively for distributors to create more sales opportunities across their entire business. Join the digital transformation that's changing the way thousands of branches across North America are managing customer communications. Get a live demo and see how Prokeep can work to drive revenue for your business.
See more: