Free Whitepaper & Resources
How to Navigate Distributor Business Challenges in a Tough Economy
Learn to build a strong communications and logistics network to combat issues such as supply chain management, labor shortages, and more with this free resource from Prokeep.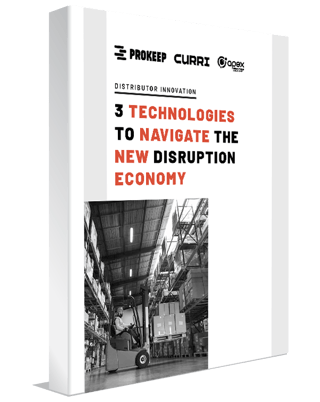 The distributor's definitive guide to growing their business and earning profits in 2022
The top three sources of disruption causing the "new normal" in construction.

Implications the "new normal" may have on distributors and their future.

Technology needed to meet customer demand to do business with you in a way that saves them time in their day, keeps them in the know, is personalized, and is
convenient.
Integrated technologies that allow your team to do business faster, easier, and make fewer mistakes.
Texting resources to offer a non-disruptive technology
into a distributor's communication toolset that allows their customers the speedy convenience of sending in pictures, orders, and questions in the same way they would communicate with their friends and families.
A blueprint for utilizing smart, software-based lockers to automate order handoff,
notification, and distribution.
Fleet augmentation resources to help distributors overcome delivery issues.
Want to leverage technology to secure your legacy and scale for profits?
Prokeep is here to help.
It's undeniable. The construction industry is undergoing a radical change to adapt to lasting harsh conditions.
If distributors plan to succeed in this changing space, they must consider making strategic decisions and investments in digital technologies centered around labor efficiencies and customer convenience.
Frequently Asked Questions (FAQs)
1. Are contractors interested in texting?
94%of of contractors report they would text their distributor if they had the option.
2. Can technology really help prevent employee turnover/labor shortages?
Current research has shown one of the leading factors for reduced employee engagement and increased turnover, is employee burnout. Among the tactics SHRM recommends to prevent employee burnout, the right technology can in fact help you to adjust workloads.
3. What's the best use of smart lockers?
If the lockers can be placed outside or in a vestibule, orders are available to pick up 24/7/365.
4. Why fleet augmentation?
The American Trucking Association reports there is a shortage of more than 80,000 truck drivers.